Fabric buildings are structures made using fabric materials, generally heavy-duty and waterproof, and offer a number of advantages over more traditional building materials.  These structures offer flexible, temporary or permanent spaces of different sizes and shapes to meet varying requirements. They offer cost-effective options for both commercial and residential uses and are quick to erect, simple to relocate, and easy to dismantle. They also require less maintenance than other types of structures, and can be used for various purposes, including storage, mining operation buildings, livestock barns and warehouses.
24' – 30' Single Truss Portable Fabric Buildings
Portable storage for your camper, boat, equipment, etc
Durable and Temporary
Do-it-yourself installation
Portable up to 1950 sq ft
Requires no foundation
Large 12'-14' opening for ease of access for taller items
Economical roll up fabric door system
Commercial grade 3" steel structure
Powdercoat paint provides protection for longer life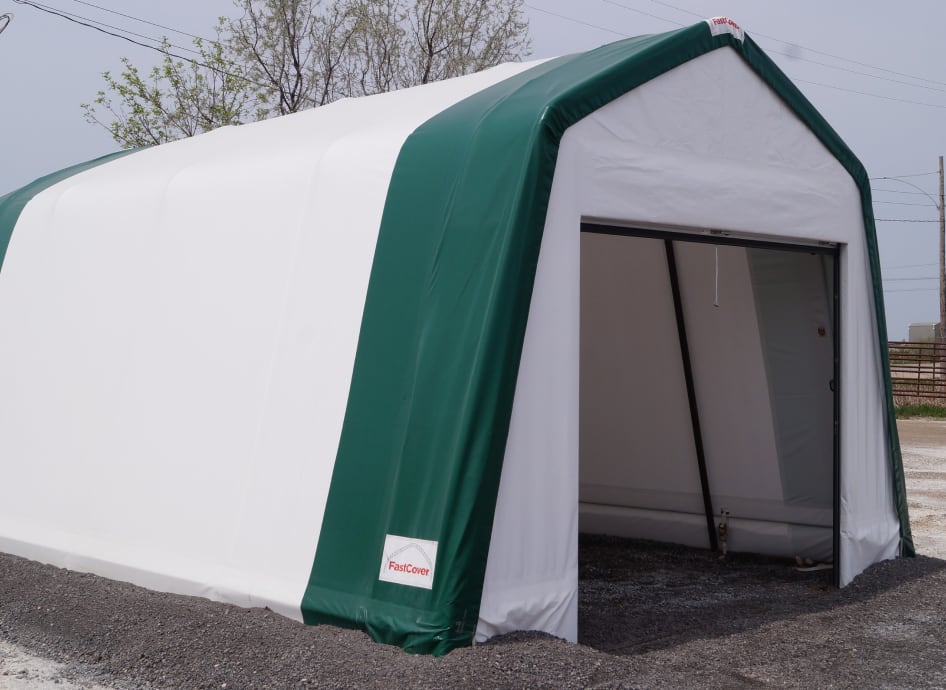 In need of a high-quality fabric structure for storing your yard equipment, automobiles, campers, trucks or tools? Look no further than FastCover's Portable Single Truss Structures. These engineered fabric sheds optimize your storage space and offer over 20 years of durability and reliable protection for your assets.
With a hi-profile option that increases door height from 12′ to 14′, you'll have plenty of room to maneuver your equipment or big automobiles without the fear of hitting the fabric. These versatile tarp shelters offer a practical solution for any situation, and provide coverage for your equipment during inclement weather.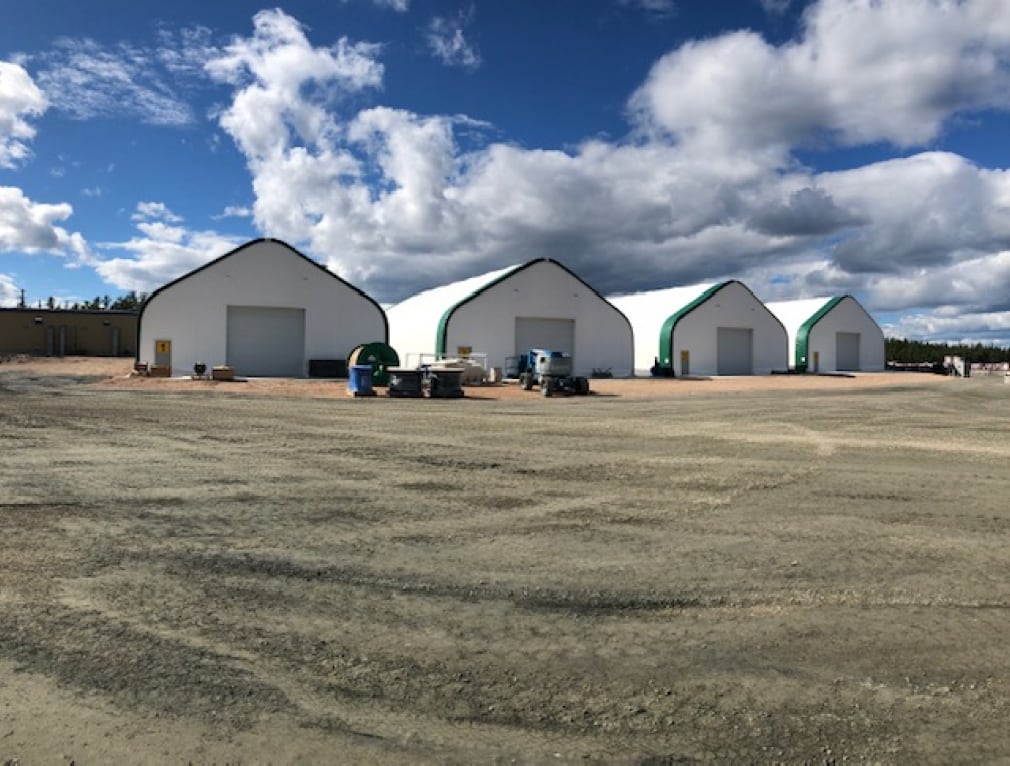 26' – 46' Portable Fabric Buildings
Frequently used for commodity storage, maintenance, and staffing facilities in construction, mining, and industrial building applications.
Built to resist harsh weather, which is ideal for outlying areas.
Portable up to 46' wide
No foundation required
Powdercoat paint provides protection for longer life
Commercial grade materials
Designed to accept a wide variety of your choice of doors
Cooler in Summer/Warmer in Winter
Snow load cables to meet or exceed building codes
Easy to work in, up to 80% light transfer
Our 26' – 46' portable, engineered truss structures are built to resist harsh weather, which makes them ideal for outlying areas. These portable buildings are frequently used for storage, maintenance, and staffing facilities in construction, mining, and industrial applications. FastCover fabric structures allow you to choose your end walls, ranging from solid to economic fabric roll-up doors, Accutrack steel reinforced fabric overhead doors or steel overhead or roll-up doors that are optimal for your operation. The 38′ Portable Structures are designed with a welded truss architecture that provides the stability and strength needed for a wide range of storage and light industrial applications. The 46′ Portable Engineered Truss Structure strikes the ideal balance between mobility and adaptability. This tarp shelter offers plenty of space for storage or light industrial space and its optimized design enables you to get the maximum surface area on the inside while being completely transportable. It is the perfect solution for situations where soil disturbance is not an option, as you can attach it to the ground using screw anchors, concrete blocks, concrete footings, pony walls, or simply hold it in place with concrete blocks.
42' – 86' FastCover Engineered Truss Structures
Frequently used for commodities storage, manufacturing or industrial spaces, riding arenas, livestock handling, etc.
Durable and versatile tarp buildings
Can withstand harsh weather conditions
Maximum weather resistance and durability
Full storm flaps
Complete ground apron
All structure hardware included
Foundation options and site specific engineering available
Optional door and/or solid end walls available
Optional venting solutions
Powdercoat for protection and longer life
Cooler in summer, warmer in winter
Easy to work in, with up to 80% light transfer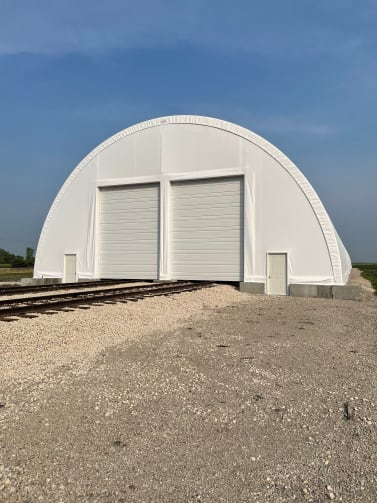 FastCover's Engineered Truss Structures are ideal for businesses looking for a durable and versatile fabric structure solution. Whether you need a tarp building for storage purposes or need to create a riding arena, livestock handling, commodities storage, manufacturing or light industrial space, our cover-all structures can be customized to meet your precise needs. These fabric structures can withstand harsh weather conditions, providing maximum weather resistance and durability. With truss spacing ranging from 6′ to 16′, these fabric buildings are designed to meet and exceed the same stringent building codes as conventional buildings. They're also available in a range of widths, making them fully customizable to your specific requirements and the perfect industrial storage solution. FastCover's Engineered Truss Structures are designed to maximize interior space utilization, providing clear span design where necessary.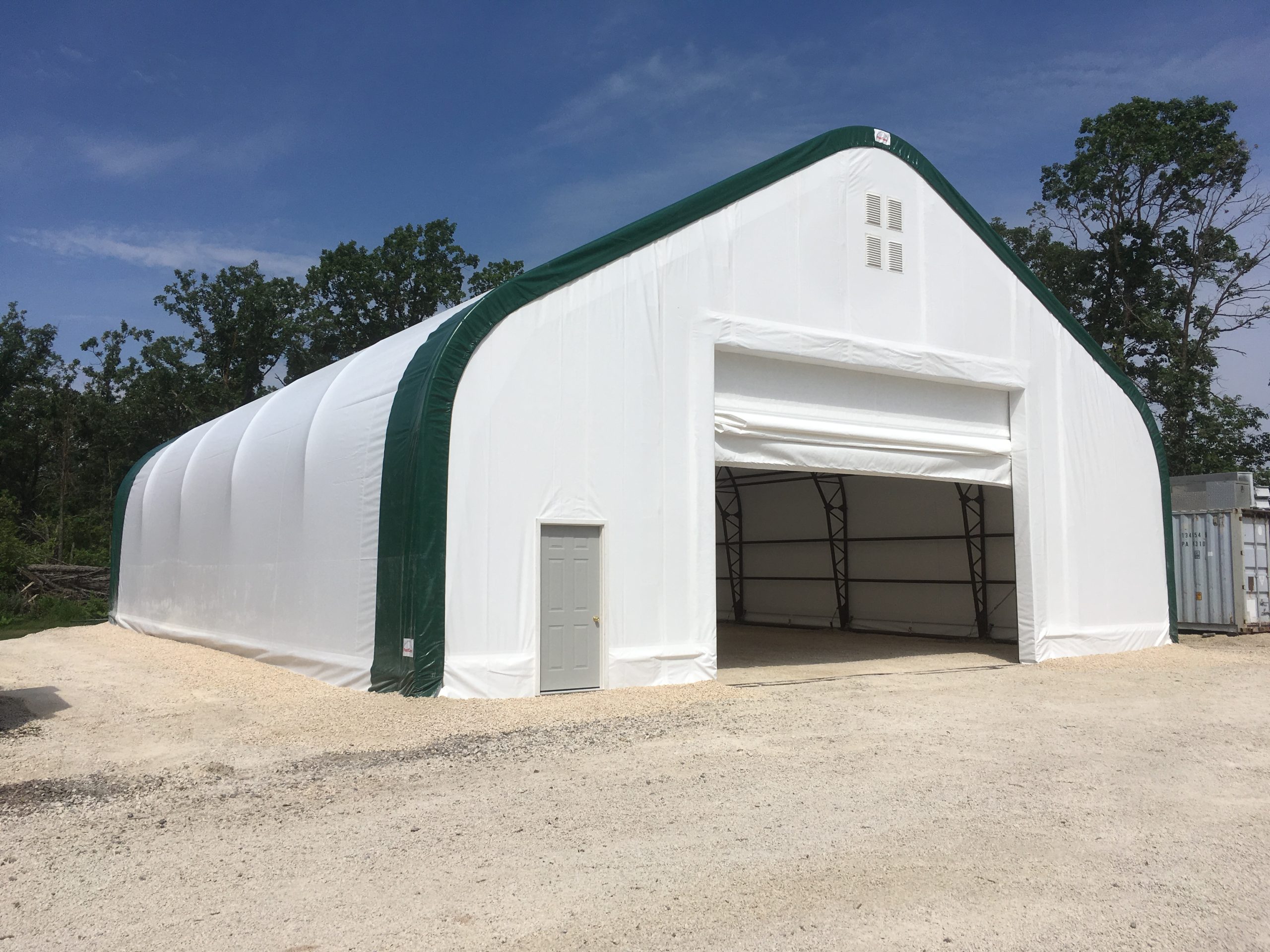 50' – 60' Fabric Straight Leg Super Structure
Maximize interior volume with massive 10′ high exterior straight wall truss legs
Popular for equipment placement, vehicle storage, or warehouse racking
Available in portable models
Foundations options are available but not required
Powdercoat for protection and longer life
Commercial grade ground anchors included
Optional baserail brackets to mount portable building to an existing foundation
Optional venting solutions
Manufactured to handle extreme weather conditions
High Density Polyethylene fabric membrane with UV inhibitors provide protection for equipment, product and livestock against the elements
The FastCover Straight Leg Super Structure (SLSS) has been designed to maximize the interior volume with a massive 10′ high exterior straight wall truss leg. Available in 2 popular widths and unlimited lengths to meet your needs with engineer endorsed 6' to 16' truss spacing, meeting or exceeding your geographical locations requirements for snow, wind and rain loads. The SLSS series is designed for maximum width and height openings on end walls to accommodate more equipment, product or livestock. At 10′ high, the truss leg on the SLSS series easily accommodates side entrances making access to this fabric structure significantly easier.
View Options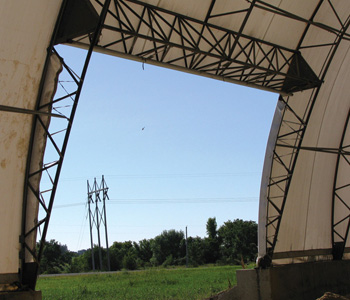 Fabric Building Doors
FastCover's cover-all structures are compatible with a wide range of overhead and walk-in doors, making it easy to customize your space according to your needs. All FastCover building packages come with one solid end wall and one roll-up fabric door as standard, but there are plenty of options to choose from to elevate your structure even further. Select from affordable fabric roll-up doors, Accutrack steel-reinforced chain hoist fabric doors, metal bi-fold doors, steel roll-up doors, overhead garage doors, and a range of manual and powered lift mechanisms to make the most of your engineered tarp building.
View Options
Fabric Building Foundations
Maximize the versatility of your FastCover portable structure with our flexible foundation options. Our outer base rail frame eliminates the need for a permanent foundation, making it easy to set up almost anywhere. Our screw anchor foundations for ground mount applications provide stability for your temporary building. For a more permanent solution, choose from our variety of options, including concrete footings, piers, pads, concrete blocks, screw piles, or pressure-treated posts. Consider incorporating concrete, wood, or steel pony walls for added height. FastCover's base rail bracket allows for easy mounting onto permanent foundations. With FastCover, you have the freedom to choose the perfect foundation for your fabric structure.
View Options