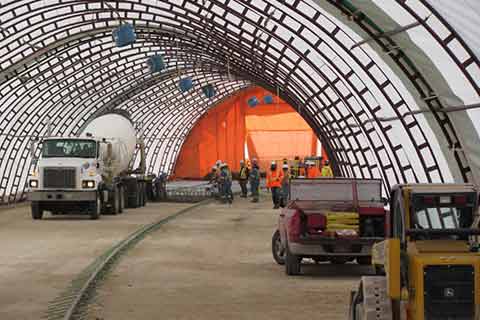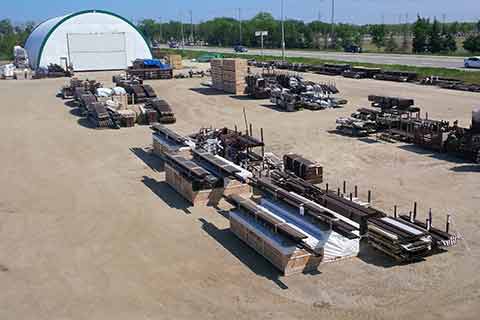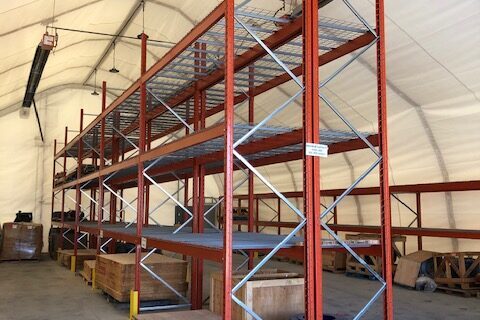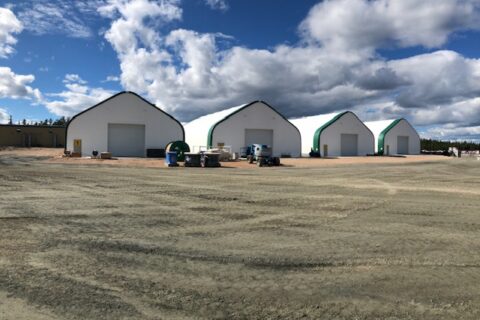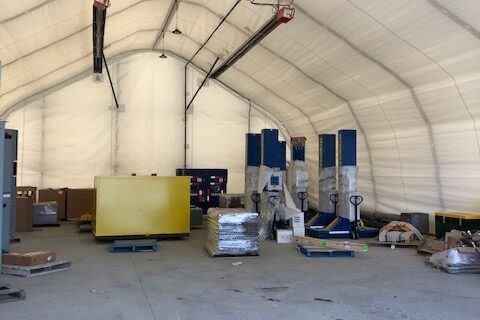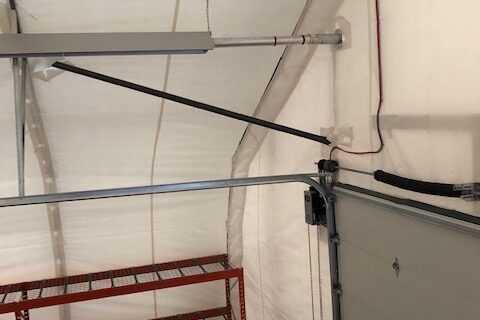 Will a FastCover Building work in your Operations?
A FastCover fabric building is an extremely versatile and valuable addition to your operations site for use as equipment storage buildings, vehicle maintenance buildings, warehousing, portable storage shelter buildings, and processing buildings.  Some key features of our buildings include the rugged modular design and the quick installations not to mention the ability to move and relocate a building to another site onto a wide variety of foundation options.
Energy Efficiency
FastCover buildings require fewer light fixtures to properly illuminate the space, reducing utility costs.
Long Lasting Quality
All FastCover single and engineered truss structures come with an industry leading 15 year pro-rated warranty.
Rugged Modular Storage Buildings for Harsh Climates
FastCover Storage Buildings are delivered in large component pieces leading to rapid construction times which can be measured in days or weeks instead of months.  Once the building trusses are set on the foundation, the cover can be pulled and tightened, typically in day.  The polyethylene covers are engineered to withstand the harsh climates often found at mining sites and buildings can be site-specific engineered to surpass the local wind and snow load requirements.  The fabric covers also transmit a tremendous amount of daylight to the interior of the building reducing your need for hard to supply utilities in many locations and the bright white underside of the cover widely disperses artificial lighting reducing the total amount of light fixtures and utility consumption.
Long Lasting Quality
All FastCover truss components are powder coat painted providing a protective smooth finish that creates a long-lasting barrier that helps to prevent any premature wear in corrosive environments. Our NovaShield II membrane fabric building covers will not rust. Read about our 13 year warranty.
Relocatable/Portable, Modular
Foundation options such as temporary concrete inter-locking blocks, and even shipping containers or screw pile ground anchors make the building and the foundation relocatable to another job site, extending the useful life of the building.  A FastCover fabric building is delivered to site in large, modular components. Building installation is typically measured in weeks or days, not months.  Permanent, semi-permanent, or temporary, choose the foundation that suits your operation and your project life-cycle and our FastCover fabric building can be installed, disassembled, and re-assembled as needed.
Clear Span for Maximum Workspace
There are no interior column or cross support beams to interfere with the movement or placement of equipment inside the building.  Building side walls rise quickly gaining storage height and maximizing the building interior width and height for storage or operational layout plans.
Low Maintenance Exteriors
The polyethylene covers never need to be painted and your building will not need to have shingles replaced. Most exterior materials such as dirt and dust will simply slide off with a breeze or be washed away with the next rainfall.  The less time and resources you have to spend maintaining your building, the more your resources are applied to your operations.  With the rapid install times and low maintenance fabric cover exteriors, you gain maximum usable time from your building.  When others may still be building, your building is at full utilization.
QUALITY & INNOVATION,
COMBINED WITH VALUE.
These are the benchmarks that have made FastCoverTM a recognized industry leader.
Get A Quote Today!
Read Our Testimonials
I am the owner of a growing moving business. I was looking at options for a space to store my trucks, materials, and equipment. A family member who had recently purchased a similar building referred me to FastCover for their easily assembled, well-constructed fabric structures, and superior customer service. The FastCover structure I purchased was affordable, allowing me to grow my business in other ways, and has proved itself very durable, requiring little repair and maintenance.  As my crew and I were assembling the building ourselves, we ran into an issue raising the tarp; we called FastCover and they promptly sent over two knowledgeable installers to assist us and we were done in no time. I would not hesitate to recommend FastCover to anyone. The staff were courteous and helpful, and they supplied a great quality product that was perfect for my company. If you are considering a structure from FastCover, take it from me… there is no better service out there.
Putts Transfer. Winnipeg MB.
I needed extra storage and with my new FastCover I am now able to use my other building for my business. I heard about FastCover from a friend and when I called the sales person, she was very pleasant and went the extra mile to make sure everything went well for me. FastCover was the only company who asked me what I wanted instead of telling me what I wanted. My new Portable FastCover doesn't require any type of cement footing which made it more cost effective. I installed it myself and anytime I had any questions they were just a phone call away. You will get good service here because they make you feel like a person and not just another sale. I have had my FastCover for one winter now and it stood strong in 120km. Very Impressive!
Darrel A. Vehicle & Boat Storage. Prince Edward Island
Energy & Exploration Products