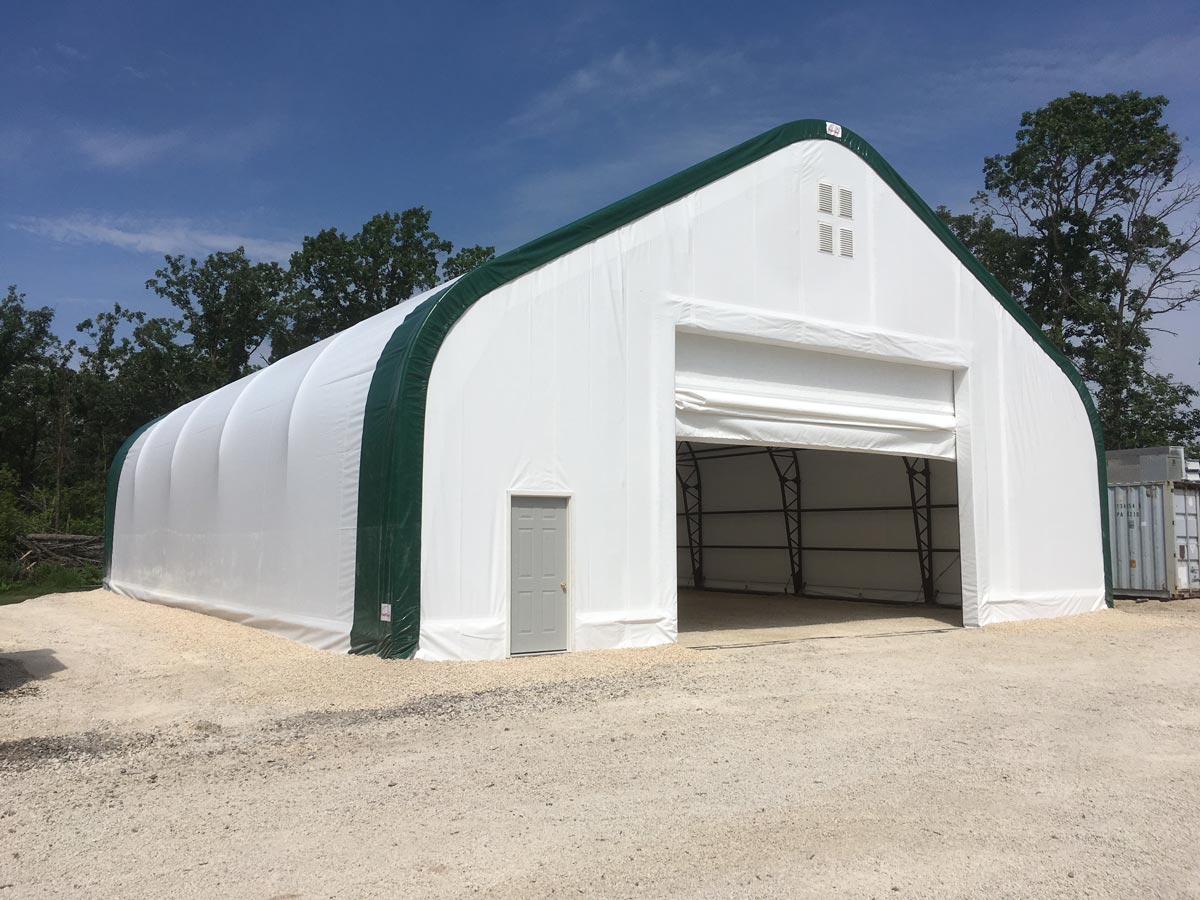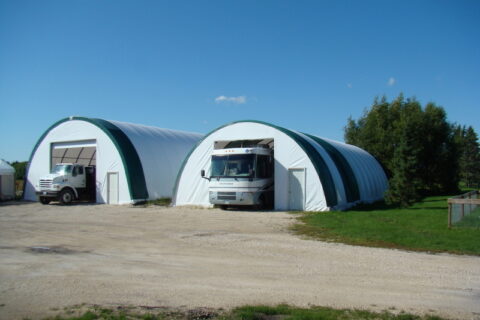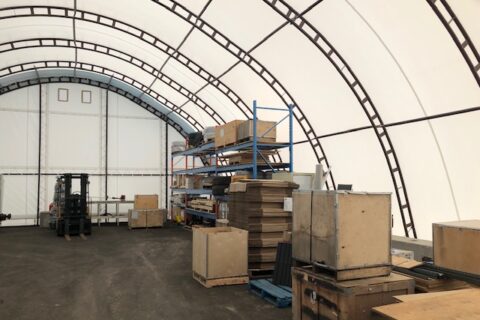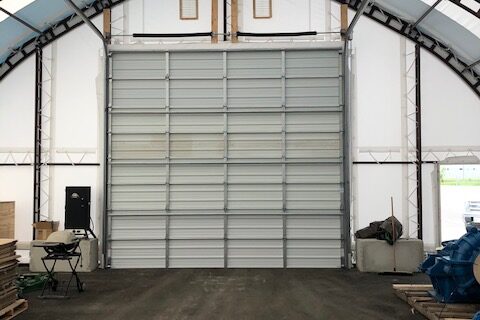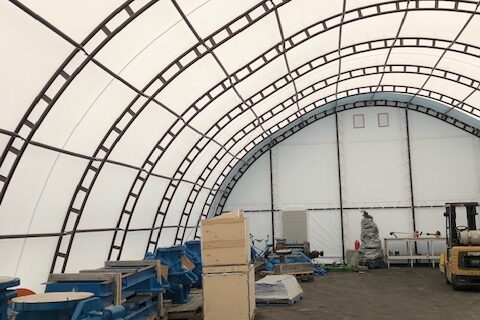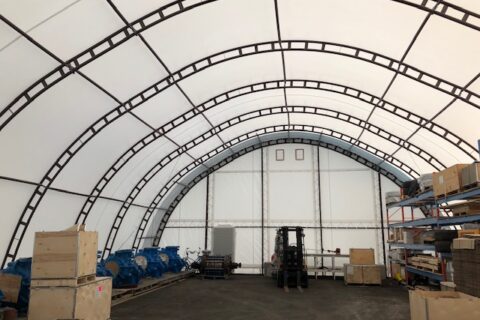 Will a FastCover Building work as a Commodity Storage Building?
Commodity storage means bulk storage means, above all else, you need space, both horizontal floor space as well as vertical space.  FastCover buildings for commodity storage offer flexibility and usability.  Along with all that storage space, you need access for vehicles and equipment to handle the commodity product.  Our steel-framed fabric buildings have the manoeuvrability space for large equipment to operate without any obstructions.  These same advantages hold true for the storage of fertilizer, bulk grain, palletized and packaged commodities.
Energy Efficiency
FastCover buildings require fewer light fixtures to properly illuminate the space, reducing utility costs.
Long Lasting Quality
All FastCover single and engineered truss structures come with an industry leading 15 year pro-rated warranty.
No Obstructions
All our commodity storage buildings offer clear span space without any interior columns to interfere with the movement of machinery, storage of commodity product, or the placement of equipment.  Plan your workflow to maximize your own process, not to work around the limitations of your building.
Our building designs result in high ceiling heights and walls that gain height quickly.   This height means your commodities can be piled high without concerns for your ceiling clearance.
Building Additions
More commodity storage space does not always mean a completely new building.  With the building design flexibility of a FastCover building, the building can be extended by simply adding more truss sections to one end of the building and adding a new cover section, joined to the previous cover.  The existing end wall can be moved to the new end location.
Energy Efficient / Temperature Moderation
Most commodity storage buildings are also considered cold storage or dry storage.  That is the interior environment is not machine controlled.  FastCover building covers do not radiate heat and cold like a metal building can and with proper ventilation control, interior temperatures are moderated.  Combine this with the tremendous ability of the fabric covers to transmit daylight while blocking UV rays and FastCover buildings are very energy efficient.  There is no need for artificial lighting during daylight hours, even on a cloudy day.  When daylight is no longer available, the white underside of the cover disperses artificial light more evenly so often fewer light fixtures and lower utility costs are required to properly light your building.  Plus, better lighting helps to create a safer work environment.
Quick Turn-Around Time
Where a conventional building installation may be measured in months, a FastCover building installation may be measured in weeks or days.  In the commodity storage business, protecting your bulk assets from weather-related damage is a high priority.  As your business grows and your storage needs grow, knowing a building installation schedule will be a quick turn-around means you can rest assured your assets are covered and protected.
Long-Lasting Quality
Industrial work environments require a rugged building.  All truss components of a FastCover building are painted in our own powder coat paint line which provides a glass-like, non-abrasive, smooth finish that protects the steel against corrosion and helps to prevent any premature wear in the fabric cover.  In corrosive environments, this creates a barrier between the corrosive elements and the steel, a long-lasting barrier. Of course, the NovaShield II membrane fabric building covers will not rust.
QUALITY & INNOVATION,
COMBINED WITH VALUE.
These are the benchmarks that have made FastCoverTM a recognized industry leader.
Get A Quote Today!
Read Our Testimonials
I am the owner of a growing moving business. I was looking at options for a space to store my trucks, materials, and equipment. A family member who had recently purchased a similar building referred me to FastCover for their easily assembled, well-constructed fabric structures, and superior customer service. The FastCover structure I purchased was affordable, allowing me to grow my business in other ways, and has proved itself very durable, requiring little repair and maintenance.  As my crew and I were assembling the building ourselves, we ran into an issue raising the tarp; we called FastCover and they promptly sent over two knowledgeable installers to assist us and we were done in no time. I would not hesitate to recommend FastCover to anyone. The staff were courteous and helpful, and they supplied a great quality product that was perfect for my company. If you are considering a structure from FastCover, take it from me… there is no better service out there.
Putts Transfer. Winnipeg MB.
I needed extra storage and with my new FastCover I am now able to use my other building for my business. I heard about FastCover from a friend and when I called the sales person, she was very pleasant and went the extra mile to make sure everything went well for me. FastCover was the only company who asked me what I wanted instead of telling me what I wanted. My new Portable FastCover doesn't require any type of cement footing which made it more cost effective. I installed it myself and anytime I had any questions they were just a phone call away. You will get good service here because they make you feel like a person and not just another sale. I have had my FastCover for one winter now and it stood strong in 120km. Very Impressive!
Darrel A. Vehicle & Boat Storage. Prince Edward Island
Commodity Storage Products