FastCoverTM Fabric Structures has been manufacturing steel structural fabric covered buildings for more than 30 years. A fabric building has many advantageous features which are a result of using building components that consist of a mix of traditional and innovative building materials.
Guaranteed Quality
All buildings are reviewed and tested by independent third party professional engineers and carry a 15 year prorated warranty on all steel & fabric.
Modular Design, Easy Assembly
All our Portable Fabric Covered Buildings are modular in design. Several buildings can be connected to each other, offering unlimited lengths.
Versatile & Multifunctional
Whether it is for storage, special events, manufacturing, maintenance, or an indoor riding arena, FastCover has the flexibility to meet and maximize your specific needs.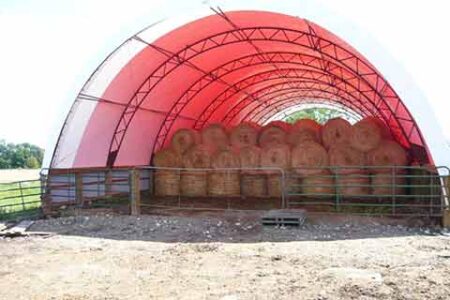 Hay barn Hay storage buildings by FastCover provide long-lasting durability and protect the value of your hay crop from spoilage and UV light damage.
View Industry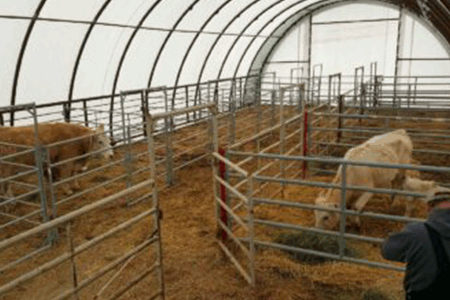 FastCover fabric buildings are an excellent choice for livestock barns, offering tremendous natural light and improved ventilation.
View Industry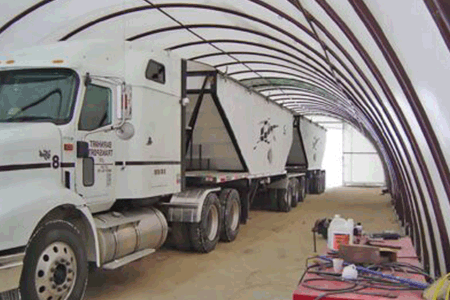 Brightly lit wide open spaces make for an outstanding choice for farm buildings used for equipment storage or maintenance shop.
View Industry
QUALITY & INNOVATION,
COMBINED WITH VALUE.
These are the benchmarks that have made
FastCoverTM a recognized industry leader.
Get A Quote Today!
Read Our Testimonials
I am the owner of a growing moving business. I was looking at options for a space to store my trucks, materials, and equipment. A family member who had recently purchased a similar building referred me to FastCover for their easily assembled, well-constructed fabric structures, and superior customer service. The FastCover structure I purchased was affordable, allowing me to grow my business in other ways, and has proved itself very durable, requiring little repair and maintenance.  As my crew and I were assembling the building ourselves, we ran into an issue raising the tarp; we called FastCover and they promptly sent over two knowledgeable installers to assist us and we were done in no time. I would not hesitate to recommend FastCover to anyone. The staff were courteous and helpful, and they supplied a great quality product that was perfect for my company. If you are considering a structure from FastCover, take it from me… there is no better service out there.
Putts Transfer. Winnipeg MB.
I needed extra storage and with my new FastCover I am now able to use my other building for my business. I heard about FastCover from a friend and when I called the sales person, she was very pleasant and went the extra mile to make sure everything went well for me. FastCover was the only company who asked me what I wanted instead of telling me what I wanted. My new Portable FastCover doesn't require any type of cement footing which made it more cost effective. I installed it myself and anytime I had any questions they were just a phone call away. You will get good service here because they make you feel like a person and not just another sale. I have had my FastCover for one winter now and it stood strong in 120km. Very Impressive!
Darrel A. Vehicle & Boat Storage. Prince Edward Island
As Plant Manager of a growing business that provides superior feeds and supplements that ensure nutritional health and exceptional performance, we were looking at options for extra storage space for different feed and ingredients that must be protected from the elements in Southern Alberta. FastCover was chosen due to its cost effectiveness and quick set-up, allowing us to grow our business in other ways, and has proved itself very durable, requiring little maintenance. The recycled asphalt floor with redi-racking three shelves high on each side of our 32' wide x 100' long FastCover enables us to efficiently move product in and out with our regular forklift.  FastCover not only manufactures their structures, they also provide complete installation services, allowing us the luxury of dealing with one supplier throughout the process. I would not hesitate to recommend FastCover. The FastCover Team were courteous and helpful, and they supplied a great quality product that fit the needs of our company.
Frequently Asked Questions