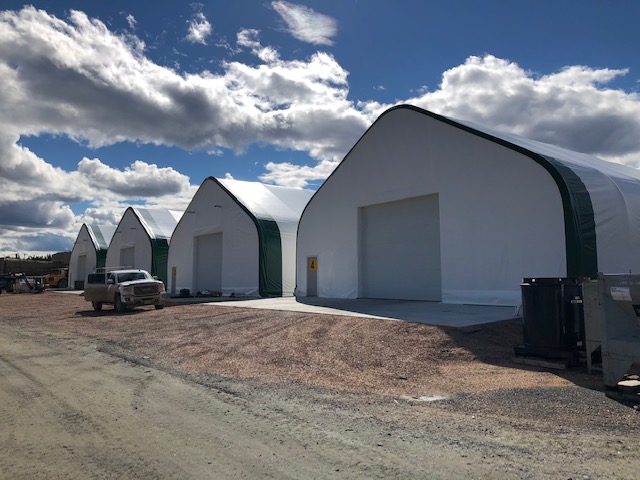 Project Description
Industry: Energy & Exploration
Location: Northern Manitoba, Canada
Application: Inventory / Parts Storage
Building Size: 50' wide x 84' long x 24.5' high – FastCover Engineered Double Truss Straight Leg Series Structure – Steel OH door 16' wide x 14' high c/w power lift
Building Features
This FastCover is used for heated storage of the client's mining parts inventory. Over the years this large Mining client has had FastCover supply them with various smaller structures for maintenance and storage purposes and recently concluded that our product was robust enough to meet their rigorous requirement for larger scale warehousing. Working with the client it was determined that multiple FastCovers were the most efficient and effective method of warehousing. Each of the four structures were designated to warehousing different parts groups, for ease of access, based on frequency of usage.
These FastCovers are the SLSS models referring the Straight Leg Series Structure (SLSS) with a 10' high straight leg truss providing massive cubic volume inside to maximize storage with 16' wide x 14' high steel OH doors complete with power and remotes. They are highly conducive to commercial racking and in this particular application 2 exterior and 1 centre set of racks allows the client is easily access parts from both aisles that are created. Full concrete pads were poured for each structure enabling the client to properly secure the racking to the floor.
Much of the warehoused product has hydraulics, electronics, rubber and other components that can be damaged if left in the elements outside in this harsh environment. To prevent any damage each structure has a full interior liner on the inner portion of the truss, creating a 30" dead air space, allowing for greater heat retention. Couple with the liner they are fitted with overhead radiant propane heating units to ensure inventoried product remains at a temperature in which the product is not damaged and is immediately usable and functional.
Lighting was of course added to ensure each warehouse facility is functional 24 hours per day. FastCover has the ability and credentials to accomplish these types of remote projects. The continual accreditation to CWB (Canadian Welding Bureau) and the CSA A660-10 standard permits us to design, manufacture and provide site specific engineer stamped documents for structural buildings. Having company employees install our own product ensures a seamless process to clients throughout each phase of the project.