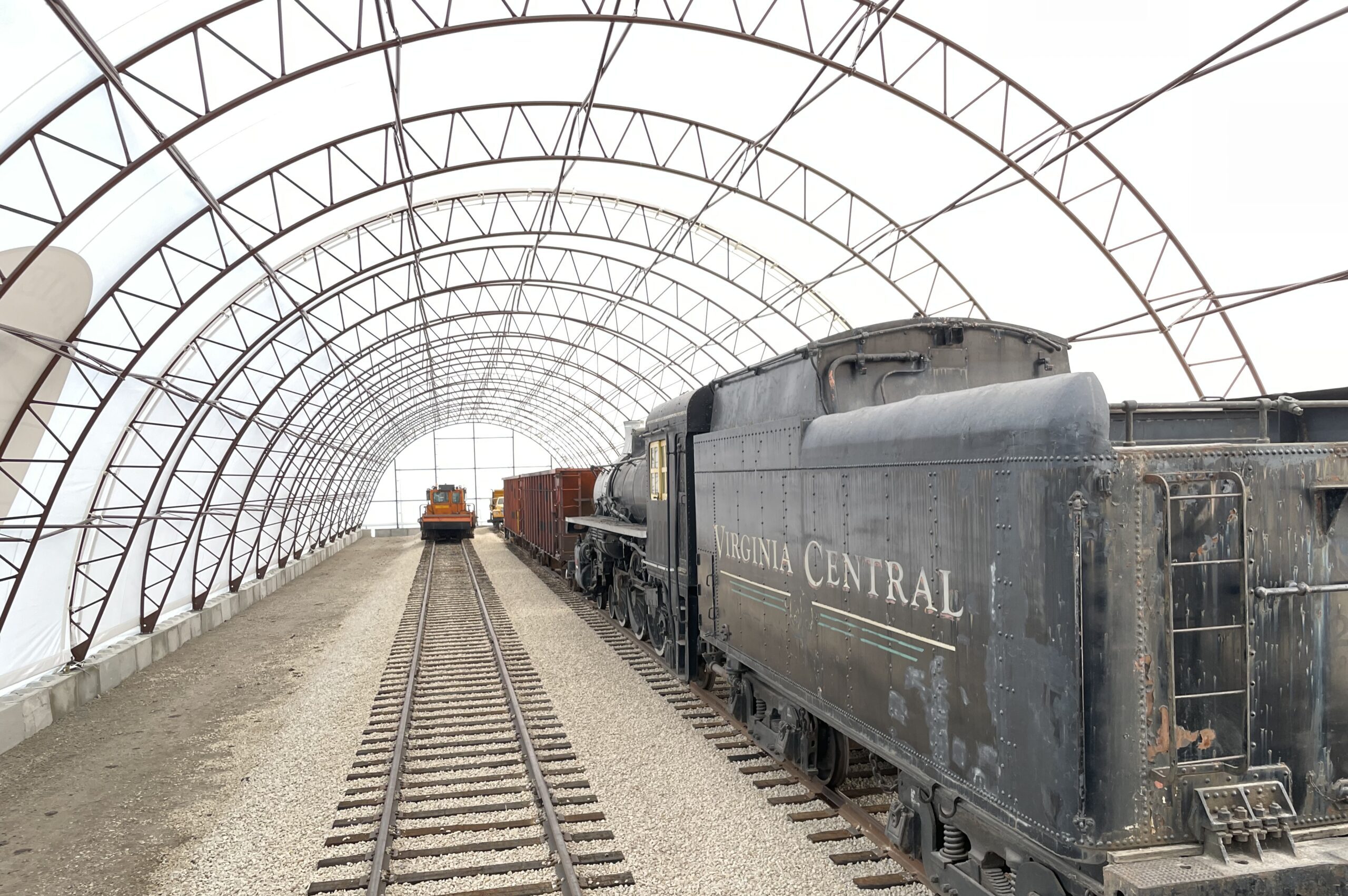 Project Description
Client: Prairie Dog Central
Location:  Winnipeg, MB Canada
Building: 400' long and 60' wide hoop style structure with large 14' wide x 18' high overhead doors.
Prairie Dog Central is a non-profit organization serving the tourist industry that seasonally runs an antique passenger train throughout rural Manitoba.
The Challenges
They have struggled over the years to find adequate and affordable storage facilities for their  "very expensive" locomotive and passenger cars during the winter months. FastCover started working with their volunteer board a number of years ago in an attempt to make such a facility accessible to them.
In the fall of 2020 funds became available and facility drawings started. This FastCover needed to be a specific width to accommodate the height and width of the locomotive and passenger cars which would be stored on 2 sets of parallel railroad tracks which were already in existence. It was determined that the FastCover 60' wide hoop style structure was a perfect fit. It was able to accommodate the large 14' wide x 18' high overhead doors on each track. The length was determined to be 400' to accommodate the entire train which is over 700'.
To meet these specifications and ensure that the structure met the snow, wind and rain loads for the National Building Code in that location, we determined that a concrete loc-block foundation would best suit this application. Because the tracks are elevated, mounting the structure on top of the 2' high blocks increased the overall height of this FastCover to accommodate the door openings. Manufacturing such a structure is common practise for FastCover as we have a fully CWB and A660-10 certified fabrication facility complete with our own powdercoating paint line. This allows us to ensure that the production and paint process meets all the engineering requirements from start to finish.
Installing this FastCover over the 2 existing sets of tracks became the challenging part as the entire structure has been mounted onto a complete row of concrete lock blocks which we also installed. FastCover and our graphics supplier Creative Print-all, assisted, with printing and installing the large format graphic which is over 20' in diameter, prior to installation.
This new FastCover will allow the Prairie Dog Central to maintain its original glory during the winter months and be ready to go in spring of every year.