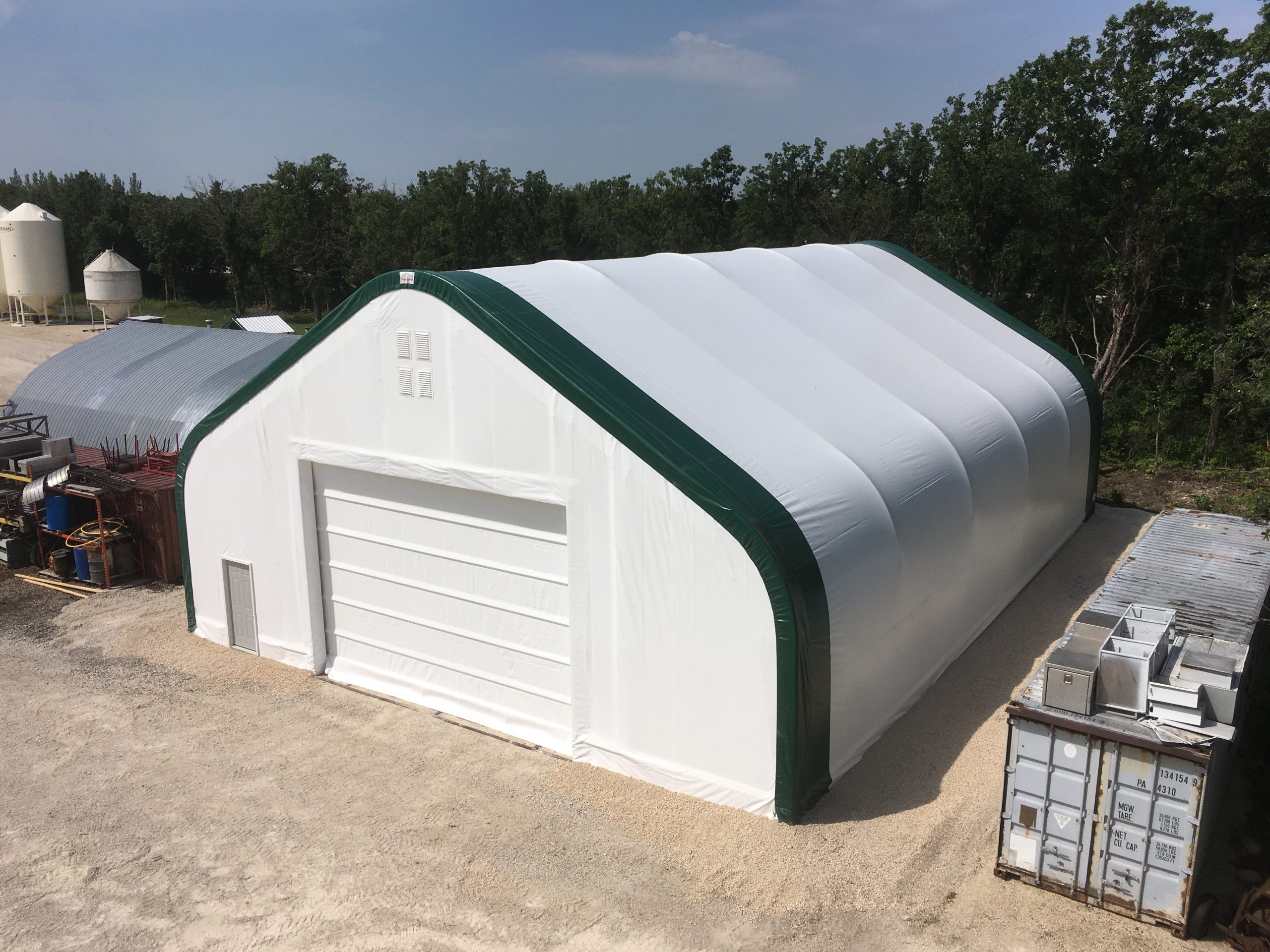 Project Description
Industry: Grain Farming
Location: Stonewall, MB
Application: Agricultural equipment maintenance and storage
Building Size: 50' wide x 70' long FastCover Straight Leg Super Series Structure – Fully Portable
Located on the farmyard in close proximity to the client's steel Quonset and a windbreak of large oak trees the truss spacing on this new SLSS series is an economical 14', easily managing the snow, wind and rain loads as per National Building Code for the location. This robust structure with a truss depth of a massive 28" will ensure that it has the ability to withstand much harsher conditions.
Building Features
The engineered double truss incorporates  3.5" .100 wall steel tubing for both upper and lower chords with 3" wide x 1/4'" thick web connectors. All linear cross bracing uses  3" tubing. All components are powder coat painted in our own facility. Powder coating is an excellent inhibitor of rust and when properly applied can assist in longer fabric life where steel and fabric meet. The double 3" base rail provides the perfect foundation to mount the truss legs.  This building can be erected on any relatively level surface with no other foundation required.
FastCover uses the same high density polyurethane woven material on all buildings to ensure longevity. We have buildings in use with the original fabric for well over 20 years of service.  This building features the very popular green trim (very common especially in farm building settings) with the majority of the main cover white to match the other buildings on the property.
No lighting was required in this application as the white fabric lets 80% of natural light through for great working conditions during daylight hours.  Even on a cloudy day, the light is dispersed reducing shadows.
The building has two doors built into the front end.  The standard man door is a 36"x80" steel insulated pre-hung door with sill, brickmould for a clean installation and keyed lock. This allows easy access to the interior when the larger door is not required for equipment access.  The main overhead door is a 20' wide x 16' high Accutrack steel reinforced fabric roll-up door with a 6:1 aspect ratio chain hoist lift mechanism. This style of door remains cost-effective but adds a greater element of security from the elements. Steel tubing encased in pockets at 2' intervals on the fabric door riding inside C channels on each side of the opening providing excellent protection from the harsh elements.  Both doors are mounted to the end wall steel which has been engineered for this purpose.
Building Anchoring System
The ground conditions were mostly clay (with the occasional nasty root system). We were able to secure the customer's structure using a combination of our new larger 5' screw anchors complete with 12" of flyting.
Farm Building Benefits
The FastCover 50 SLSS Series easily provides storage space for numerous pieces of farm equipment with ample room to comfortably move around within the structure for maintenance purposes.  The FastCover SLSS series is available in both 50' wide and 60' wide profiles in unlimited lengths. Both are fully convertible structures available in Fully Portable configuration or mounted to your foundation of choice. The design of the components when unassembled make the FastCover a perfect choice to easily erect them with no permanent foundation, and re-locate them in the event their service is required elsewhere.  A farmers equipment is probably the most important asset a farm can have in their possession, and keeping them out of the elements reduces deterioration of tires, hoses, paint ultimately resulting in a more profitable operation.