FastCover recently erected the 50' wide Straight Leg Super Series structure for a prominent crown utility company in Western Manitoba, Canada to be used as an equipment storage building. The building was required to be fully portable as the property is currently being rented by the Utility Company and it will be required to be re-located at some point in time. Although the FastCover 50 SLSS is portable it is imperative that the structure and foundation meet National Building Code for that specific site, which it does. FastCover engineers ensured that the structure exceeded snow, wind and rain loads for the area and also that the foundation met all the necessary uplift, down force and horizontal load requirements. With the stamped engineering documents in hand, FastCover started the fabrication process. The FastCover 50 SLSS is unique in that it provides a tremendous amount of cubic volume inside the structure. With 10' high exterior straight legs, equipment, pallets and commercial racking are able to be placed in close proximity to the sides allowing for great use of space. In this particular application incorporating concrete blocks as the foundation allow for even greater use by lifting the structure even higher. Incorporating a steel non-insulated overhead door with a chain hoist ensures that the weather elements stay where they should be… outside.
The purpose of this FastCover is to provide excellent inclement weather protection for the client's equipment. Providing equipment protection drastically reduces the deterioration of tires, hoses, mechanical & electrical components plus reduces the early onset of rust on painted parts. Longer equipment life results in greater return on investment for the client. Another benefit is the creation of a better work environment for their mechanical staff to complete minor repairs and maintenance.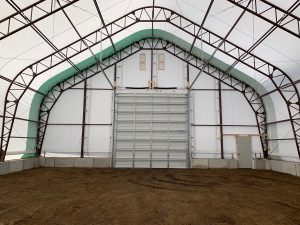 The building did not require the supply of electrical wiring or interior lighting.  Primarily a day-use building, the semi-translucent building covers and end walls transmit a tremendous amount of natural light to the building interior, even on cloudy days.  As a result, the expense to install artificial lighting was avoided, increasing the ease of a future building move.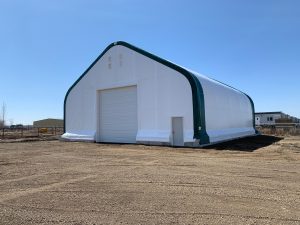 FastCover uses only structural steel fabricated under the strict guidelines of the Canadian Welding Bureau (CWB) and the Canadian Standards Association (CSA A660-10). Working closely with and being audited annually by the CWB, FastCover ensures that documented welding procedures are adhered to by all CWB certified welders employed by FastCover. Being accredited and also annually audited to the CSA A660-10 standard ensures that we meet engineering standards as set out by the National and International building codes plus it ensures traceability of raw material to finished goods. Only CSA A660-10 accredited companies can provide site specific, engineer stamped documents for fabric structures such as FastCovers.