Business operation in remote locations pose a number of challenges to many organizations, including those in the resource sectors such as Oil & Gas, Mining, Agriculture, Surveying, or Transportation.  Modern building technologies such as FastCover Fabric Buildings offer a number of unique advantages that are well suited for use in remote locations with limited access to resources and labour.
1. Portable Modular Building Design
A FastCover fabric building is made of modular components, steel truss sections, end wall and frame components, foundation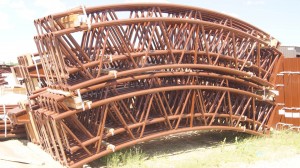 connections, and a fabric cover. All of these components are designed to be transported efficiently to almost any location and then assembled on site.  The steel truss components are all factory welded and then are bolted together on-site meaning no requirement for on-site welding or steel fabrication. FastCover buildings can also be disassembled back to their component parts and then re-assembled at a different location. This portable aspect of FastCover buildings allows them to be a valuable asset as work operations move from one site to another.  See More.
2. Flexible Foundation Options
FastCover buildings feature the exclusive continuous Base Rail system so in many applications they can be installed without a
permanent foundation.  This results in numerous foundation options to suit the building location and purpose such as using high strength screw anchors for ground mount applications or many temporary foundations such as concrete blocks or pressure treated posts using the Base Rail bracket. If the build is later required at another location, often the foundation or anchors can be reused as well.  See More.
3. Quick Installation by Our Team
A workshop or lumber building that normally takes months to complete takes days with a fabric building. Our crew comes to your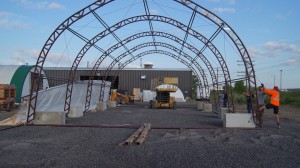 location to level and install your fabric building under your specifications. Time is money, don't let construction put a restraint on your productivity or a strain on your resources.  See More.
4. Low Electrical Requirements
Unlike other buildings, FastCover fabric structures use a material that is weatherproof, retains temperature, and also lets natural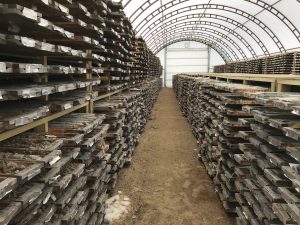 light through. This reduces the need for lighting during the day and temperature regulation. For many building uses in remote locations such as warehousing, equipment storage or equipment storage, the light transmitted through the cover during daylight hours is often enough and the bright white underside of the covers helps to distribute artificial lighting lessening the number of lighting fixture and power requirements. See More.
5. Rugged and Durable
FastCover fabric buildings are designed and built in Manitoba, Canada and are ready to stand up to the harsh environmental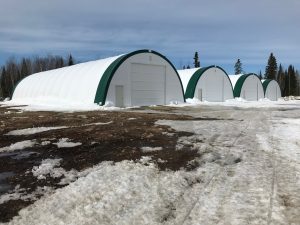 conditions of some remote locations.  Weather factors such as extreme winter cold or blazing summertime heat are no concern for the engineered fabric covers of the buildings. Elements such as water, dust, sand slide off the building so little maintenance is required on the building covers.  The building's steel superstructure is welded in factory conditions and then post weld powder coat painted to protect from exposure to harsh environments, inside and outside the building. See More.
Making the decision to build a FastCover fabric building in your remote locations means you have chosen a building that will prove it's value through savings in time and money and will perform beyond your expectations.