2017 WRLA Buying Show
FastCover is pleased to offer the following show specials to all WRLA members attending the 2017 WRLA Buying Show in January: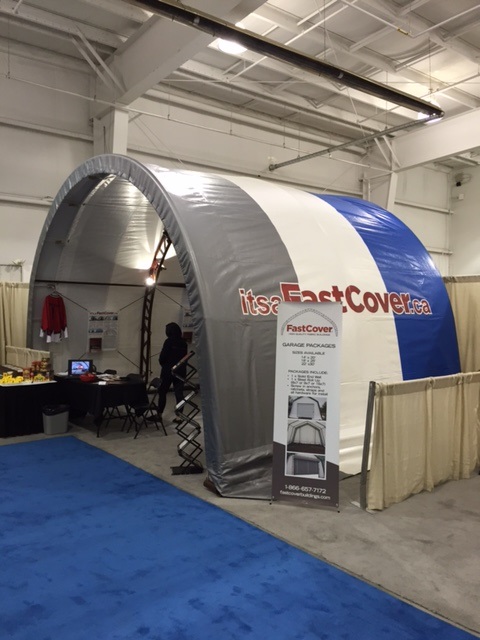 #1: With the purchase of any portable engineered truss main structure and end walls, FastCover will include At No Cost, 1 complete man door frame kit and 1 pre-hung steel insulated 36″x80″ door c/w brickmold & keyed latch set. This has a value of over $500.00
#2: With the purchase of any FastCover* we will provide a complete set of graphics for you to adhere to the side or end of the structure allowing you the opportunity to generate leads and ultimately sales from having a FastCover at your location for storage and re-sale purposes. Graphics are bold with "ItsaFastCover.ca", Your Company Name and your company phone or email address. The exposure is amazing and it will drive customer traffic to you.
#3: Year End Blow Out Specials:
2 only FastCover 10'w x 16'L Cabana sunshades @ $499 ea (Regular selling price $999)
2 only FastCover 10'x10′ Fabric storage sheds @ $399 ea (Regular selling price $699)
1 only FastCover 32'x48′ Portable Engineered Truss Main Structure @ $11,599 (regular selling price $15,465) Red/White/Red main cover colour
Click here or call us at 1-204-791-5510 to take advantage of the year end blow out special. The sale expires January 27.
FastCover has the ability to provide products and services ranging from supply only, installation, dismantle and move and maintenance, all direct to you. As a full line manufacturer of complete fabric covered structures, FastCover is your one stop shop . Call us today at 1-866-657-7172 or visit our website; fastcoverbuildings.com.: Check us out on Instagram.
2017 WRLA Buying Show
This years WRLA Buying Show is being held in Calgary, AB from January 18th through to the 21st, 2017. It is an exclusive show for WRLA members where suppliers of the lumber, building products and hardgoods have the opportunity to showcase and sell their products to members. The WRLA provides the "YardStick", a professional industry news magazine six times per year. It provides leading edge information on business practices, new technology, trends, new legal and legislative issues and new products & services that impact the building supply industry in Western Canada.
FastCover Fabric Structures Ltd., a full line manufacturer of Fabric Covered Buildings, is a proud member of The Western Retail Lumber Association Inc. (WRLA) which provides a forum for the exchange of ideas and information in the building supply industry. Comprised of about 1,200 member firms, WRLA represents the interests of members in Manitoba, Saskatchewan, Alberta, British Columbia, Northwest Territories, NW Ontario, Yukon and Nunavut. WRLA serves the needs and promotes the common interests of the Canadian lumber, building materials and hardgoods industry in Western Canada.
FastCover's Value for Your Business
FastCover provides WRLA members a unique opportunity. Our affordable fabric structures can not only be sold by members to generate profitable sales and increase members volume, but can also be used for storage of member owned equipment and other products for re-sale. Keeping valuable inventory and equipment stored properly out of the harsh elements ensures that no losses, devaluation or further depreciation occurs. Many building products retailers take full advantage of using FastCover quality fabric structures for storage with the added bonus of having a fully erected FastCover as a sales tool, on site, for display purposes.  Our customers, along with us, know that this type of storage is a tremendous sales tool that sells FastCovers.
FastCover portable fabric buildings provide excellent value for temporary storage. Our portable structures are fully movable in the event your business is constantly growing and expanding. Permanent structures can limit your ability to "change on the fly" as so many business owner/operators must do in today's volatile economy. What works today may not work tomorrow! You may need to move, shift and re-think your storage needs depending on what the market and your customer dictates, and your new FastCover has the ability to accommodate the changing face of business.