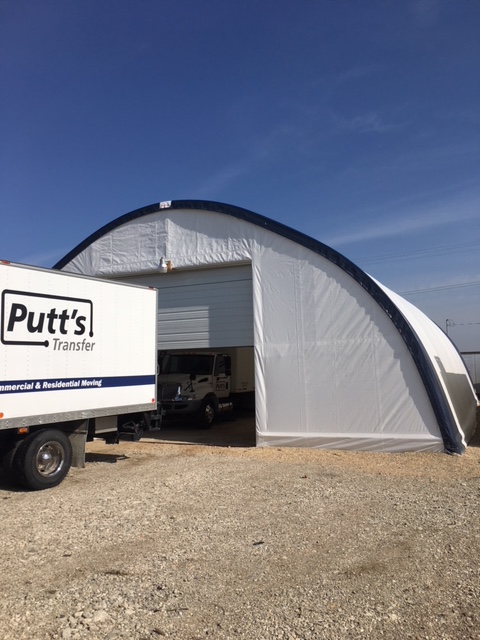 Project Description
Client: Putt's Transfer
Location:  Winnipeg, MB
Building: Portable Engineered Truss 46' wide x 60' long
"I am the owner of a growing moving business. I was looking at options for a space to store my trucks, materials, and equipment. A family member who had recently purchased a similar building referred me to FastCover for their easily assembled, well-constructed fabric structures, and superior customer service. The FastCover structure I purchased was affordable, allowing me to grow my business in other ways, and has proved itself very durable, requiring little repair and maintenance.  As my crew and I were assembling the building ourselves, we ran into an issue raising the tarp; we called FastCover and they promptly sent over two knowledgeable installers to assist us and we were done in no time. I would not hesitate to recommend FastCover to anyone. The staff were courteous and helpful, and they supplied a great quality product that was perfect for my company. If you are considering a structure from FastCover, take it from me… there is no better service out there."
Jacques B, Owner, Commercial Moving Business
Features
On the fabric cover, we added custom Blue trim (at no extra cost) to match the corporate colors of the client's company logo.
Although the white fabric transmits 80% of natural light through for great working conditions during daylight hours, the Customer installed lighting for evening clean-up or next day preparation.
Customer installed 2 large ceiling fans to circulate the air in the building on those warmer days.
Note: the FastCover cross bracing provides the perfect mounting connections for both lighting and fans
End wall bracing works great to hang up various tools of the trade.
A 36"x80" steel insulated pre-hung man door was added including sill and brickmold for a clean installation and keyed lock.
The main overhead door is 16' wide x 15' high steel non-insulated sectional overhead door c/w 4-1 chain hoist allowing easy access to moving trucks.
Because the customer's site is remote and not always occupied, the customer has placed a 20' container inside their FastCover to securely store items of significant value.