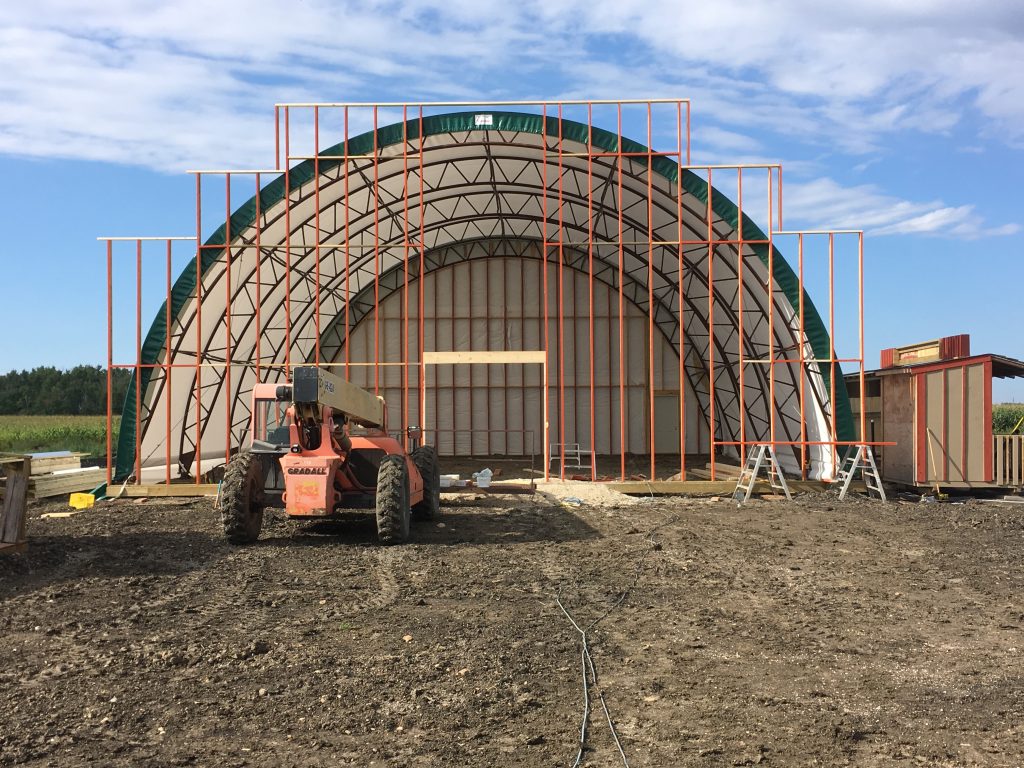 It's like a high tech version of a good ol fashioned barn raising.  Drive past the farm yard on a Friday afternoon and you can see a front end loader off-loading the trusses and crates from a flat bed trailer.  Drive past again on the following Monday morning and that pile of steel and crates has turned into a 38 foot x 80 foot FastCover fabric covered storage building ready for use.  This is a common sight happening all across North America.  The FastCover Portable Engineered Truss Structures are becoming a popular choice for farmers and ranchers who need more covered storage space but don't have the time to spare to fuss with weeks of building a traditional material structure.  These fully engineered portable buildings provide the strength and portability that is required to meet the varied storage needs, from equipment storage to hay and feed storage.  
A Weekend is All You Need
FastCover buildings are manufactured and shipped in modular components.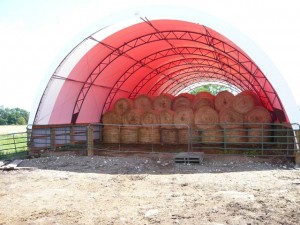 A full truss span will consist of 4 to 6 truss pieces which are then bolted on site and stood in place.  Repeat the process and connect each truss with the cross member support purlins and continue until your steel superstructure is in place.  The fabric cover is then secured to the base on one side of the building.  Using guide ropes slung over the building's frame work, the fabric cover is pulled into place and secured on the opposite side and ends.  While the building installation instructions are quite a bit more detailed than this high level overview, this installation process is intended to take several days, as compared to several weeks, stretching in to a month long project, for traditional building materials.
Flexible Foundation Options
With FastCover's ingenious Base Rail system, the options are nearly endless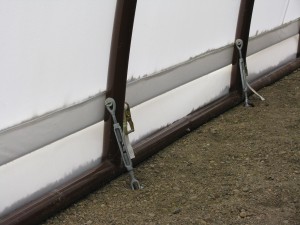 regarding building location and foundation choices.  Some farm/ranch owners choose to build their storage building mounted on wood or concrete posts, some are built mounted to the ground, others on a temporary concrete block wall.  one of the common storage building installation techniques is use engineered ground screw anchors which are located to match the connection points for the building.  This results in both a building and a foundation that is portable and can be re-used at another location.
Flexible Storage Space
A FastCover fabric covered storage building is well suited to a wide variety of storage uses.  Many times the Farm Storage Building will serve dual purposes.  One end of the building is utilized as an equipment / machinery storage and maintenance building.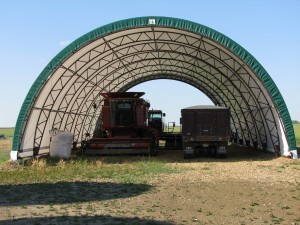 The clear-span space with no internal columns to restrict movement is ideal for a weather protected storage area and the fabric covers bright allow a tremendous amount of natural daylight to pass to the interior of the building.  This makes for an excellent location to perform repairs and scheduled maintenance to your equipment.  While one end of the building is utilized by machinery, the other end is used for hay storage, feed storage, fertilizer storage, or crop storage.  The weather-proof covers keep materials dry and with properly designed ventilation the buildings are ideal for crop / feed storage.
Got your weekend plans ready?  Take advantage of the FastCover QuickShip program to get an available building on it's way to you right away.