FastCover has been serving farmers for years and we're excited to be showing our structures perfect for farm equipment storage at the Canadian Western Agribition in Regina, Saskatchewan at Evraz Place, November 21-26, 2016.
Canadian Western Agribition
Our team will be there in full force with a fully functioning FastCover structure that all attendees will be able to see touch and better understand the benefits of owning a FastCover. With our blue, white and silver FastCover that showcases the various truss configuration, you'll find us quite easily. FastCovers are quickly becoming a highly sought after farm equipment structure for their overall value. The have the ability to protect your cattle, horses, equipment and commodities from the harsh elements of North America.
Affordable Canvas Storage Structures
As one client states, the ROI on his FastCover is less than 3 years. The structure has significantly reduced the deterioration of tires, hoses and paint. Protection with your FastCover significantly reduces the damage caused by snow, wind, rain and sun. The UV inhibitors incorporated into the fabric ensure that your "well-used" equipment remains in good condition for many more years and your brand new equipment remains immaculate.
Fast Cover Exhibits at Canadian Western Agribition
FastCovers are becoming more and more popular with farmers and ranchers to protect their cattle, horses, goats and sheep. A FastCover is essential during Spring calving season and can bolster the health of newborns in the first 12-24 hours, especially in frigid weather. An added bonus of calving in a FastCover is that "You" also get to work in a more controlled environment, making your job easier.
Finally, ensure that you get maximum value from your commodity, when you store and protect your hay, alfalfa, corn, etc. with a FastCover. Keeping the elements off your commodity ensures accurate moisture content and the UV inhibitor in the fabric assists in reduction of spoilage.
The FastCover team is excited to meet and discuss your needs ensuring that you are confident in choosing your new FastCover. We look forward to seeing you at Canadian Western Agribition, Cooperators Arena #4, Booth #1603.
---
Canadian Western Agribition Event Details
The Canadian Western Agribition, located in Regina, Saskatchewan, Canada, is the best beef show on the continent and the largest livestock show in Canada. The show is anchored by beef cattle and features horses, bison, sheep, goats, and an extensive agribusiness trade show. Canadian Western Agribition is a blend of agriculture, First Nations, and festive entertainment, featuring live music, shopping, and food. The show hosts evening pro rodeo performances for action-packed entertainment! The event is an international hub of agriculture excellence, hosting over 800 international guests from over 70 countries. Canadian Western Agribition is where the world meets.
---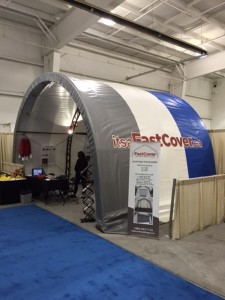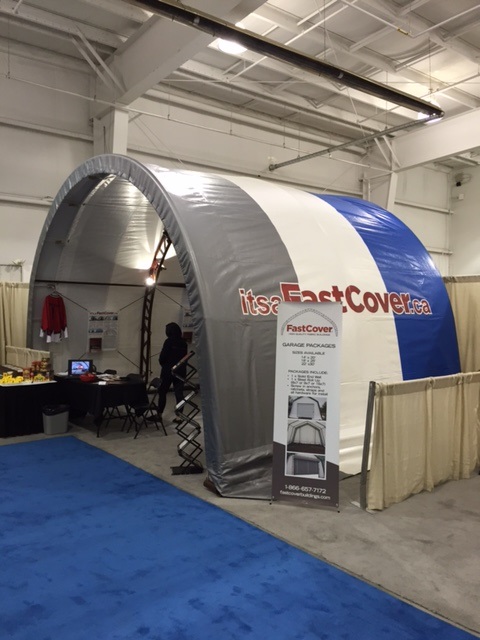 Stop by our booth and take advantage of our show specials!
FastCover 14′ x 20′ Garage / Storage Shed – Only 8 left in Stock at this low price
Now only $2499.00.
FastCover DIY Garage/Storage Packages are not your ordinary portable structures. They are manufactured using the same commercial grade steel, high density polyethylene woven fabric and hi-tension kits just like our industrial structures. Industry leading "Real Steel" 8'wide by 7' high Trac-Rite steel roll-up doors are included. Only 11 in stock, ready including everything you need to erect and ground mount. Place your order early to ensure you receive a great quality FastCover at a price you won't see again!
Get one while they last!
FastCover 38' & 46' wide Portable Engineered Truss Building
Save over $1000.00!
Purchase any FastCover 38' or 46' wide building and receive an Accutrack 14'x14' Door Upgrade" for only $500 (valued at $1539.00)
The FastCover 38' and 46' wide Fully Portable Engineered Truss buildings are the go to building for agricultural, commercial and industrial customers. Their versatility to accommodate a wide variety door openings, ease of installation and unlimited size options make it suitable to most applications.
Limited quantities
We look forward to seeing you at the Cooperators Arena #4, Booth #1603.
Just look for the silver, white and blue FastCover!!
And remember to check us out on Facebook
---
Canadian Western Agribition 2016 Event Location:
ADDRESS: Evraz Place, 1700 Elphinstone St, Regina, SKS4P 2Z6