Interview with Neil Fast about the FastCover Portable Farm Equipment Storage Buildings.
Hi Neil, earlier today we were talking about your Portable Fabric Covered Buildings, and how they might be an ideal solution for farm equipment storage.
Neil – We have two great portable truss structures. And for the agricultural community, Fastcovers are a great option because they give you maximum square footage to store your farm equipment with the portability in the event that you ever wished to move it to a different site on your farm, you certainly can do that because of the way the building was designed.
Many of our ag customers not only use it for farm equipment storage, but for cattle handling to keep their cattle out of the weather – especially during times of calving.
When you talk about being in a flood plain, the building certainly can be moved out of harms way in the event that it needs to be moved to higher ground.
---
Typical Farm Uses For Fabric Covered Buildings
---
Question:
How long does it take to disassemble a building and put it back up in a different location?
Answer:
If you did a partial disassemble, you certainly could do that in a day or two. Many of our ag customers have what is known as 'The MacGyver Influence', and they put plates under the building; either 2×4 or 2×6 steel skids, and they use farm equipment to drag fully structured buildings to different locations, depending on their needs. They have become quite creative and the Fastcover buildings certainly has the ability to withstand that sort of activity.
---
Easy Assembly Farm Equipment Storage Buildings
FastCover structures are pre-engineered and are modular in design. No heavy equipment required and no permanent foundation needed. Rapid installation, ease of relocation or extension, and lower operational costs make the FastCover structure the preferred choice of customers, no matter what it is used for!
Farm equipment storage buildings
Car and truck storage garage
Compost storage building
Fertilizer storage structure
Temporary grain storage building
Fabric covered hay storage barn
---
Question:
Do you have different door options for different sized equipment?
Answer:
Yes, we have a number of different door options for fabric covered buildings. Generally the most economical type of door would be a fabric roll up door. You can probably do 15′ wide by 16′ high door, which is economical, but not necessarily practical if you are moving your equipment in and out on a regular basis.
We offer a steel re-enforced fabric door in a multitude of sizes to fit seeders, threshers, combine headers and other equipment to fit the users needs. The steel re-enforced fabric doors are slightly more expensive – still a good value, and certainly make it easier for regular use.
Although Fastcover is not in the commercial door business, we have 3rd party connections where we can assist a customer if they wish to put in a steel overhead, a roll up door, a commercial door, a bi-fold door… In those instances we generally match our customer with one of our suppliers so they can purchase directly. That adds greater value to the equation of buying a Fastcover.
---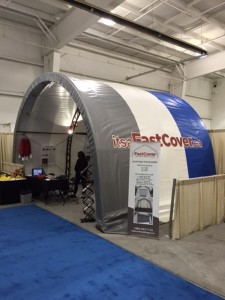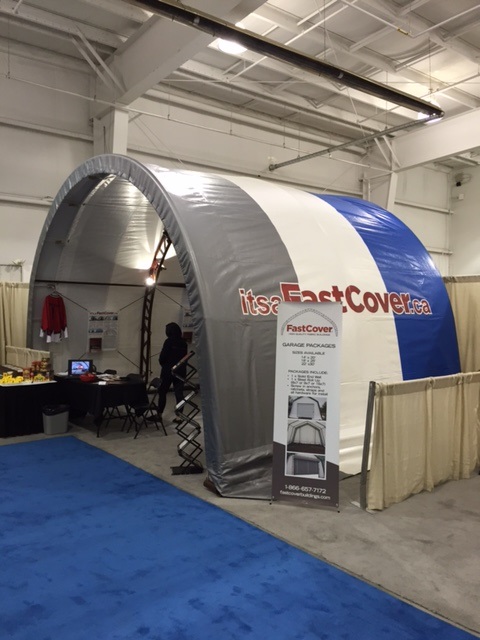 Thank you for watching this video, we greatly appreciate your interest in a Fastcover as your Portable Storage building for your Farm Equipment and implements.
Request a Quote Today.
We are a family-owned business, manufacturing our product in the prairies, for the prairies weather. We invite everyone to stop by our location – we are open to the public and are more than happy to assist you directly in your Farm Equipment Storage Building needs.
Thanks so much – and remember – @itsafastcover