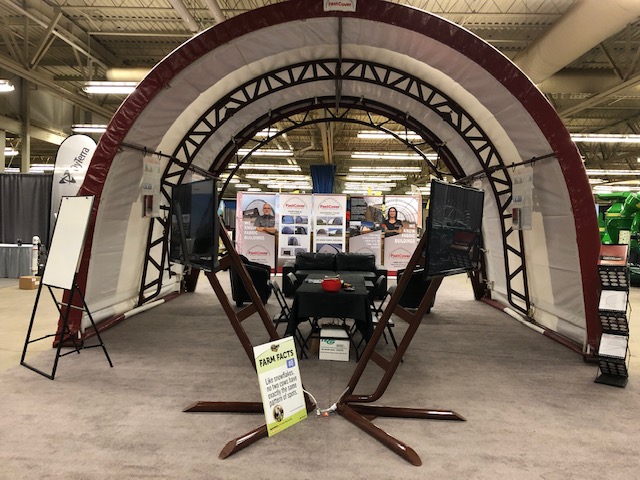 A big Thank You to all those attendees who stopped by the FastCover booth
Manitoba Ag Days held in Brandon, MB is an annual event showcasing new and innovative products and services specifically designed for the Agricultural Sector. It is always well attended, as a no cost entry fee enables the show to draw from a very large surrounding area including other Provinces and States. It was an exceptional show for FastCover with new and existing customers looking at and making commitments to purchase new FastCovers. It is always satisfying to have existing owners of FastCovers bring acquaintances to our booth to talk about their positive experiences with their structures. There is nobody better than FastCover building owners to "sell" the benefits of FastCover ownership to new customers! Our booth was a 20′ wide x 15′ long FastCover fabric building complete with three styles of steel truss arches and the same fabric we use on agricultural and commercial buildings. We can demonstrate the real-life components of our fabric buildings and you can fell the sturdiness of the powder-coated, welded, truss building super-structure.
We are excited as to how the new year is starting with the opportunity to serve the Canadian and upper United States market. FastCover is currently serving clients in the Agricultural, Mining, Commercial/industrial, Oil/Gas, and Commercial Fishing sectors. In the event you or your business require a reasonably priced, long-lasting, Portable or Permanent Fabric Structure, we would greatly appreciate the opportunity to work with you on a solution that meets your needs.
Contact us at fastcoverbuildings.com, info@fastcoverbuildings.com or toll free 1-866-657-7172.