FastCover is Proud to Introduce their new 30′ wide Hi-Profile Series Canvas Structure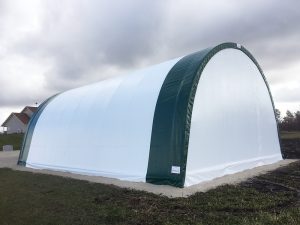 The FastCover 24′ wide and 30′ wide canvas structures are extremely popular with customers looking for a reasonably sized portable storage structure for farm and industrial equipment, RV, camper, or boat storage.
"Customers love the 14′ high door on our 24′ wide but wanted the extra space that our standard 30′ wide had, which only had a 12′ high door." sites FastCover partner, Neil Fast.
"We were pleased to accommodate our customers request for a higher 30′ wide FastCover with a 14′ high by 12′ wide roll up door and it instantly became a hit!".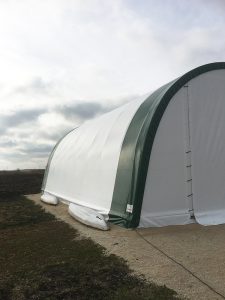 The FastCover 30′ canvas structure has all the same great benefits of being fully portable; to easily relocate and not attract property taxes, fully functional in a very short time due to ease of erection by the customer, and truly designed and manufactured in Winnipeg, Manitoba , Canada to easily survive the harshest of climates. You will not be disappointed in this new FastCover, that just like all other FastCovers, incorporates our UV inhibited hi-density polyethylene fabric and powder coat painted steel for rust protection and a smoother finish providing longevity to our fabric. The New FastCover Hi-Profile canvas structure is available today in 45′, 65′ or unlimited lengths. 
Call us today for more information 1-866-657-7172 or request a quote online.