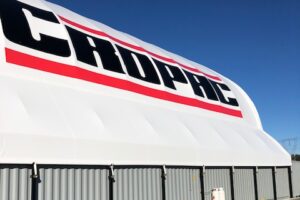 Industry: Commercial Crane Service.
Application: Service Facility and Inventory Warehousing
Location: Abbotsford, BC
Building: Engineered Truss Structure 86' wide x 80' long
Introduction
Commercial Storage Building applications of FastCover Fabric Structures are becoming more prevalent in the Commercial and Industrial business sectors. Growing businesses in these sectors that require additional facilities for maintenance, manufacturing, servicing and storage see significant value in our structures. FastCover buildings enable businesses to meet the requirements of growth at a reasonable investment.
Building Requirements
This particular project was completed for a commercial crane company in British Columbia. The company sells, services and repairs cranes and required a reasonably priced commercial storage building to provide the service and repair aspects of their business. The main needs were to have a facility that met the height requirements for the equipment they service plus the ability to provide a secure facility for parts inventory. This FastCover has a clear span of 86' wide with a length of 80'. Mounted onto 9'6" high containers on 3 sides extends the overall footprint of usable space. The structure is mounted on top of the containers incorporating an engineer stamped structure to provide the appropriate snow, wind, and rain loads for that specific site. FastCover being CWB and A660 certified was ultimately also chosen to design, engineer, and fabricate this structure. Being involved and responsible for both fabric structure and steel foundation allowed FastCover to meet the tight tolerance requirements between structure and foundation ensuring a seamless erection on site. A full concrete foundation was poured complete with maintenance pits, reinforcement for crane assemblies and container placement. FastCover was involved in wet-setting engineered truss plates during pouring to ensure proper placement of the foundation over the containers.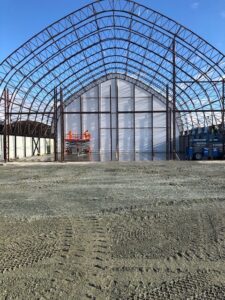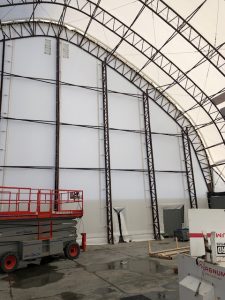 Building Installation
The commercial storage building was designed to be mounted to the inner side of the containers so as not to lose any valuable space inside the facility. The containers act as a security barrier to the exterior and access entry ways into the containers make them fully functional for light maintenance or inventory storage purposes. To ensure the weather elements remained outside, the trusses and the building's fabric cover were designed to project over the containers, creating an eave to direct rain and snow away and off the structure. Focusing on these details made for a very satisfied FastCover client. This structure has four large hi-lift and vertical lift doors for ease of access to each of the 4 interior work bays. The door sizes and the specific location dictated that we incorporate insulated panels for greater rigidity and longer life. Being on a busy highway in their city, the client wanted to ensure that their facility and Corporate logo were well recognized and prominently displayed. Well, what better way to advertise by placing their corporate logo on the side of their new FastCover. We have the ability to provide graphic services along with various other services such as lighting, electrical and heat sources.
Fabric Buildings for Commercial Warehousing
The fabric buildings we supply and install are significantly lower in overall cost compared to permanent structures. This is a significant benefit when managing cash flow as it can be challenging when growth spurts occur in business.  Our structures are compatible with most businesses, be they commercial or industrial, as they can range significantly in their clear span, can be fully portable or permanent, and can be erected with no foundation at all or a variety of foundation options ranging from concrete blocks or footings, wooden posts or shipping containers. The diversity of applications give FastCover the ability to provide the majority of most commercial or industrial companies with a storage building solution that suits them, regardless of where they are in their business cycle.